Unique coffee creations, excitement & emotion
The stage of Coffee Events once again hosted the Panhellenic Coffee Championships from SCA Greece, offering unique coffee creations as well as moments of excitement and emotion.
From the very first day on the stage of the Coffee Events in Hall 1, during the Panhellenic Coffee Championships, organized by SCA Greece, talented baristas who want to stand out competed, as the winners will represent our country at a global level. On all four days of the exhibition, the semi-finals and finals of Greek Barista, Brewers Cup and Cup Tasters competitions monopolized the interest.
Monday 13 February -Post show
On Monday 13 February the contestants, who got their ticket during the Brewers Cup and Barista semi-finals the previous days, took over the stage and showed their skills and knowledge. In the final of the Brewers Cup, the impressive creations of Ilias Papathanasis (3rd place), Giorgos Delichristos (2nd place) and Savina Yahgia (1st place) won the judges and a place at the top. At the same time, in the Barista final, with their talent, their imagination and their original creations, the winners were Nikos Antzaras (1st place), Christos Loukakos (2nd place) and Dimitris Priovolos (3rd place).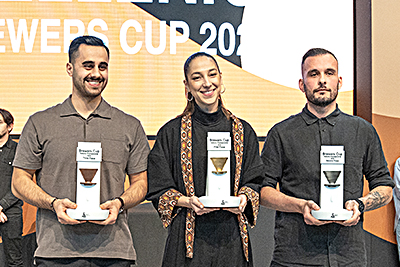 Ilias Papathanasis, Savina Yahgia, Giorgos Delichristos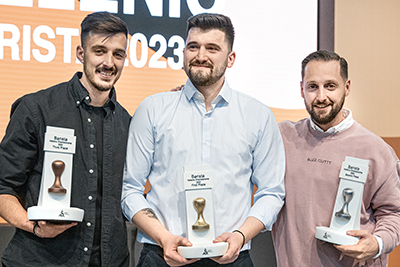 Dimitris Priovolos, Nikos Antzaras, Christos Loukakis
Sunday 12 February – Post show
On Sunday, February 12th, the semi-final of the Brewers Cup took place, where the participants demonstrated the art of making filter coffee by hand, with an emphasis on manual coffee brewing and service excellence. During the competition participants prepared and served three individual drinks for the judges and after that the winners to advance to the final were: Giorgos Delichristos, Dimitris Vythoulkas, Angelos Kotsifakis, Christina Kotta, Ilias Papathanasis, Savina Yahgia.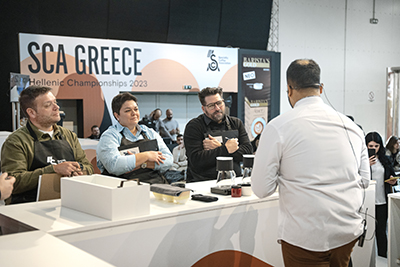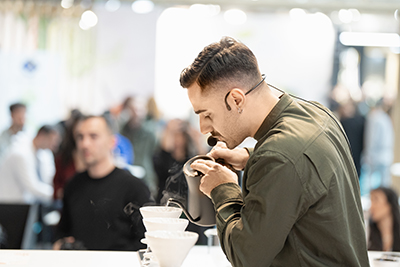 Saturday 11 February -Post show
Today, Saturday, February 11, and under the gaze of the crowd that had gathered to watch the great battles over coffee, the semi-final for the Greek Barista Championship took place, one of the most important but also difficult competitions.This competition requires the preparation of espresso, milk beverage and a Signature Beverage, in which the participants must integrate all their knowledge and experience.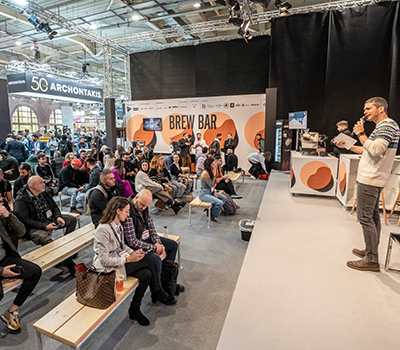 The presenter Spyros Margaritis in front of the packed stage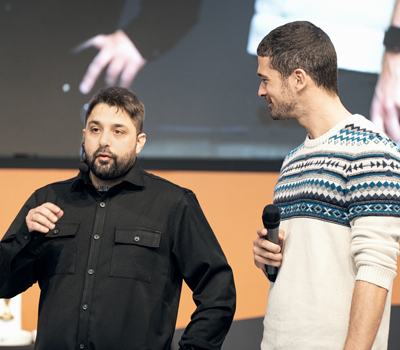 Michalis Katsiavos, Spyros Margaritis
Friday February 10th -Post show
Today, Friday, February 10, in an atmosphere of anxiety, excitement, but also a demonstration of knowledge and skills, the final for the Cup Tasters Championship took place. In this competition, the cuppers who demonstrated speed, technique and accuracy in recognizing the taste differences of specialty coffees were rewarded and the winners were: Orestis Sfiris (1st place), George Asfis (2nd place), Getis Alexandros (3rd place).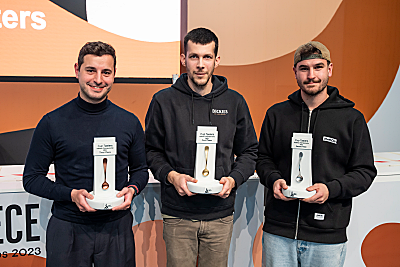 Alexandros Gketos, Orestis Sfyris, George Asfis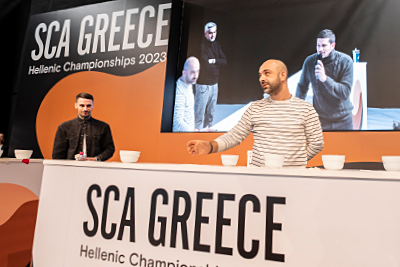 Snapshot from the competition