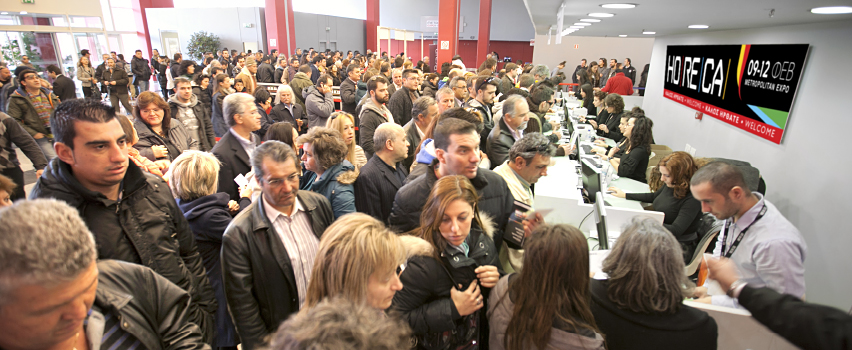 FORUM SA: Celebrating 30 years of successful presence
For more than 30 years, FORUM SA has been successfully operating in the fields of trade shows and publications with a sense of responsibility towards the bakery, pastry, coffee, food service and hospitality professionals. Since 1988, when the company started publishing the magazine Z+G (Zacharoplastio-Gelateria), FORUM SA has come a long way towards the development and expansion of its activities. Its high-quality and wide-circulation magazines have been established as valuable tools for valid and high quality information, and its trade shows are the ultimate meeting and interaction business platform for sector professionals. Today, the company organizes 8 international trade shows and 4 trade magazines.
We organize
8
international
trade shows
We welcome
4,000
exhibitors
on an annual basis
We cover
210,000
sq.m. of exhibition
area
We host
360,000
Greek & international
visitors
Today, the company organises the following international trade shows:
Moreover, the company publishes 4 professional magazines:
Α-Ζ (Bakery-Pastry)

SNACK & COFFEE

PSITO

ΑMBROSIA MAGAZINE
Always ahead of the curve
Founder, president and managing director of the company, Nikos Choudalakis is considered by major market players to have written his own history in the sector of trade shows organisation thanks to the application of an innovative business model combining the organisation of trade shows with the publication of magazines. FORUM SA is regarded as a pioneer company in Greece thanks to its dual activity which entails the communication support of each trade show by a series of professional magazines addressed to specific categories of the shows' visitors. The application of this business model leads to the mutual promotion of both activities in favor of the company and most importantly to the benefit of its clients. Furthermore, thanks to its specialized and experienced personnel, FORUM SA has an in-depth knowledge of the needs and challenges that every sector faces, and is in position to provide its clients with the proper solutions.
A strong and constantly growing company
Since 2010, FORUM SA has been recognized by ICAP GROUP SA as one of the "STRONGEST COMPANIES IN GREECE", a company that can successfully face challenges thanks to its high creditworthiness. FORUM SA is a founding member of AGECO (Association of Greek Exhibition and Conference Organizers) and participates in major Greek and international professional organizations such as SETE (Association of Greek Tourism Enterprises) and SCAE (Speciality Coffee Association of Europe).