4 stages, hundreds of HoReCa industry experts, unique cooking shows, impressive workshops, 7 Panhellenic coffee and cocktail championships… the events of the exhibition will once again highlight all the sector's developments.
Panel discussions with leading market executives, cooking shows with award-winning chefs from Greece and abroad, coffee and cocktail championships that will bring together the top names of the coffee & bar industries, workshops and conferences that will welcome representatives from global hospitality brands… For once again the exhibition will be a place of information and inspiration. The aim of the HORECA exhibition, through the multitude of its events (HORECA LAB, Gastronomy Lab, Beer & Spirits Show, Coffee Events, International Hospitality Forum), is to offer to the industry's professionals, all the necessary "tools", knowledge and information to face modern challenges in the best way, to upgrade and keep competitive their businesses.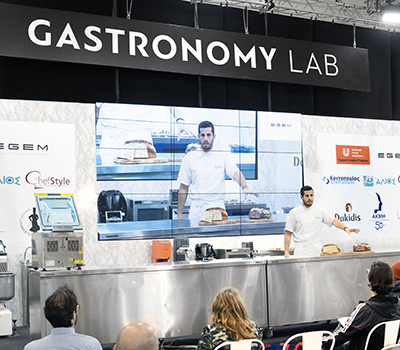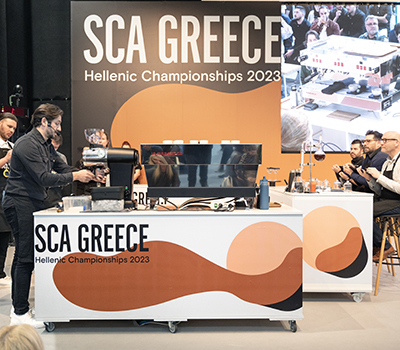 Surveys, facts, opinions, trends and all developments for the marketing and management of hotels and catering businesses will be presented by leading marketers, business owners and market executives, on the stage of Hall 3.
Gastronomy Lab's cooking seminars will be a source of inspiration for chefs & catering professionals who want to enrich their knowledge and experiences. Acclaimed chefs from Greece as well as from the international gastronomic scene, will present at the stage of Hall4, all the new trends and techniques prevailing worldwide.
The Greek coffee industry makes an appointment at HORECA 2024 and on the stage of Hall 1, for the Panhellenic Barista Championships, Cup Tasters & Brewers Cup, which will be organized by SCA Greece.
We will once again host the Panhellenic Greek Cocktail, Non Alcohol, Classic Cocktail and Battle of the Bars Competitions, from the Greek Bartenders Association. Unique techniques, suspense, imagination, talent will once again dominate the Hall 1 stage.
International Hospitality Forum
HORECA will once again be a meeting place for top executives of the Greek and global tourism industry, who will visit the exhibition as part of the 7th International Hospitality Forum, organized by the Hellenic Chamber of Hotels.