Top baristas in the... coffee battle
The stage of Coffee Events hosted once again the SCA Championships, but also young and ambitious baristas who were trying to win a place at the top of their field.
From the very first day, talented baristas took over the stage of the Coffee Events in Hall 1, during the Panhellenic Coffee Championship, organized by SCA Greece, determined to stand out and have a successful career both in Greece and abroad, since the winners will represent our country worldwide.
During all four days of the exhibition, the semifinals and finals of the SCA championships monopolize the interest of visitors. More specifically these competitions were for Greek Barista, the Brewers Cup and the Cup Tasters. The public had the opportunity to enjoy their coffee and the show, while enriching their knowledge and getting new ideas that may seem valuable for their own professional/business activities.
Post Show – Monday 14 February  
The last day of the exhibition ended with the match for the top coffee cupper, where renowned professionals and new talents came to show that they deserve the first place on the competition. The following baristas won the top three spots of the Cup Tasters competition: Spyros Lappas (1st place), Nikos Bellis (2nd place), Stefanos Foukis (3rd place).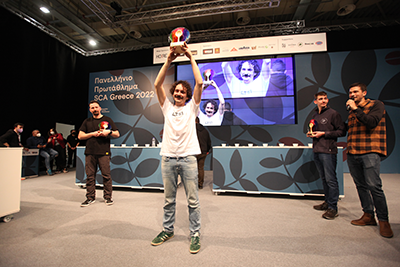 Spyros Lappas (1st place)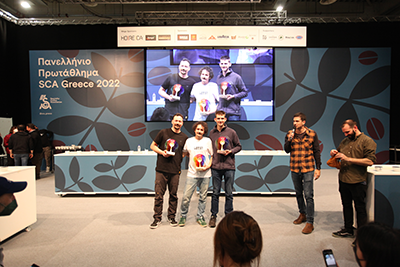 Nikos Bellis, Spyros Lappas, Stefanos Foukis
Post show – Sunday 13 February  
On Sunday, February 13, the winners of the semifinals of the Brewers Cup and the Greek Barista category that took place during the previous two days, took over the stage, gave their best, showed their skills, knowledge, talent, creativity and imagination to win a place at the top. The winners of Brewers Cup are: Stathis Koremtas (1st place), Delichristos George (2nd place) and Serafeim Zoukas (3rd place). At the same time, in the finals of the Greek Barista category, the winners are Nikos Spanoudakis (3rd place), Christos Sotiros (2nd place)  and Nikos Antzaras (1st place).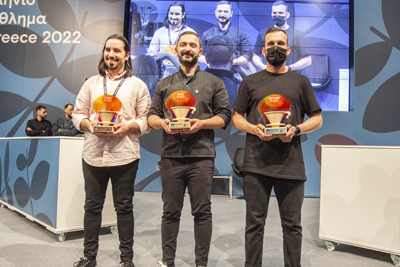 Serafeim Zoukas, Stathis Koremtas, Delichristos George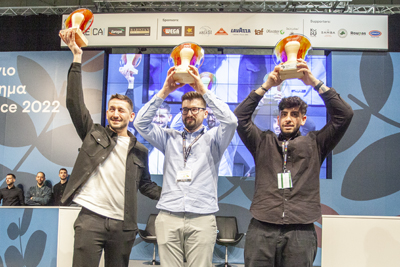 Christos Sotiros, Nikos Antzaras, Nikos Spanoudakis
Post show – Saturday 12 February
The semi-finals of the Brewers Cup Championship took place today, Saturday, February 12, in front of a good crowd, and the winners that advanced to the finals were: Serafeim Zoukas, Thanos Klouvatos, Dimitris Prokopiou, George Delichristos, Elias Poulakos, Stathis Koremtas.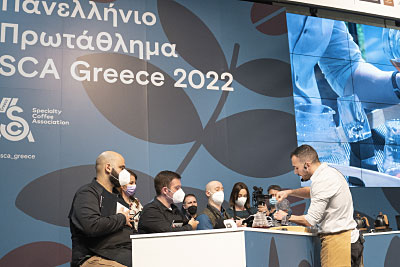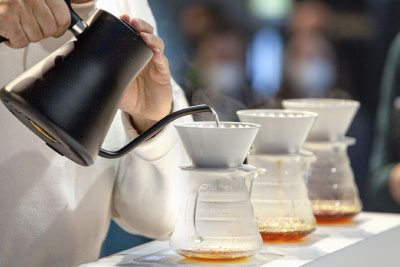 Post Show – Friday 11 February
Today, Friday, February 11, with excitement, enthusiasm, and also demonstration of knowledge and skills, the semifinals of the Greek barista Championship took place, and the winners that advanced to the finals were: Nikos Antzaras, Christos Sotiros and Nikos Spanoudakis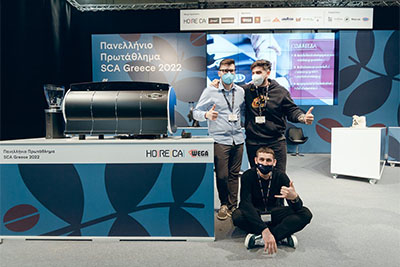 The three finalists of the Greek Barista competition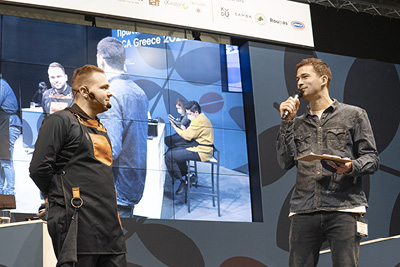 The presenter of the event Spyros Margaritis with one of the contestants