In 2020, Chef's Club of Greece and the HORECA trade show launched the "The Best Gastronomic Destinations – Restaurants" awards, celebrating restaurants and hotels that support Greek gastro-tourism.
On Sunday, February 9, 2020, at the Gastronomy Forum stage in Hall 4, the Chef's Club of Greece and HORECA, feted a series of restaurants from various regions of Greece, which are among the top culinary destinations in the country and are promoting local products, local cuisine and the regions themselves all across the world
The businesses awarded for their contribution to Greek food, are: Elaionas in Zaros (Crete), Toula's Restaurant (Corfu), 1926 (Naxos), Aristi Mountain Resort (Epirus), and Etan ena mikro karabi (Tinos).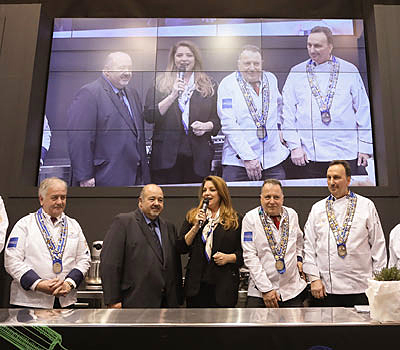 Left to right: Leonidas Chalaris, Thanasis Gialouris, Antzela Gkerekou, Tasos Zisopoulos, Tasos Protopsaltis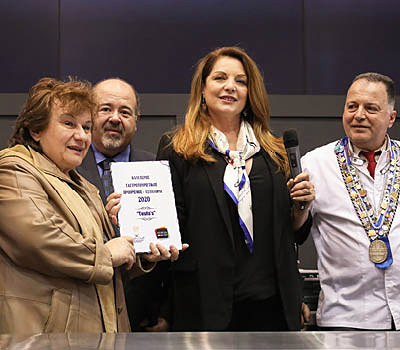 Left to right: Toula Vergeti, Thanasis Gialouris, Antzela Gkerekou, Tasos Zisopoulos
Mr. Tasos Protopsaltis, President of the Chef's Club would start the proceedings by thanking HORECA and itsorganizers for once again providing the opportunity to highlight the immense potential of Greek gastro–tourism and agrotourism at this year's Gastronomy Forum. Mr. Miltos Karoumbas, Ambassador of Greek Gastronomy for the Chef's Club, stated on his part that the support the Club and its vision received from HORECA from the very beginning, created the right structures for promoting Greek gastronomy and products.
Finally, Mr Thanassis Gialouris, VP of Forum SA, the trade show's organizing company, thanked the Chef's Club for the joint effort —even from the very first edition of HORECA— to promote Greek gastronomy and Greek tourism across the world. As he said, "I am particularly pleased that together with the Chef's Club of Greece, we decided this year to support and promote Greek gastro-tourism and agrotourism."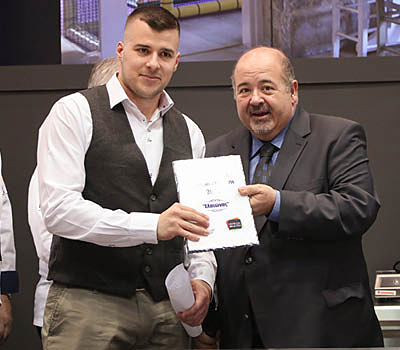 Left to right: Kalemakis Dimitris, Thanasis Gialouris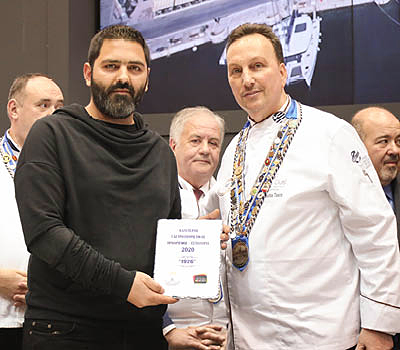 Left to right: Venieris Evaggelos, Tasos Protopsaltis
Common goal, the promotion of gastro-tourism and local products
Ms Angela Gerekou, President of the Greek National Tourism Organization, was also present at the event. In fact, Ms Gerekou emphasized that The Greek National Tourism Organization considers gastro-tourism as one of most important sectors of tourism and the organization's goal is to support specific actions that would encourage international visitors to take a small piece of Greek history and flavor with them as they return to their respective country.
Ms Gerekou presented an award to Ms Toula Vergeti (owner and executive chef) and Mr Nikos Vergetis (owner of Toula's restaurant and President of Corfu Gastronomy Association) for Toula's Restaurant in Corfu. Mrs Vergeti thanked the trade show and the Club for the award and said that she has been cooking for 40 years using her heart and fresh local produce as well as products from their garden.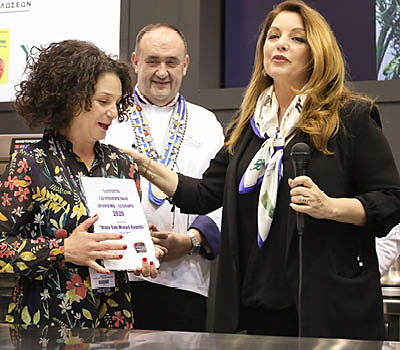 Left to right: Stamatoula Psalti, Ektoras Ioannou, Antzela Gkerekou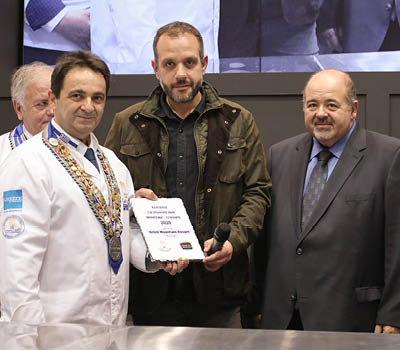 Left to right: Tolis Tasos, Liokas Giannis, Thanasis Gialouris
Mr Thanassis Gialouris presented an award to Mr Dimitris Kolemakis for Elaionas restaurant in Zaros, Crete. Mr Kolemakis said that "For 15 years we have been trying to promote the authentic Cretan cuisine and gastronomy from our restaurant, and we are very grateful for the award. This recognition from such significant institutions just proves that we are on the right track."
In addition, the President of the Chef's Club of Greece, presented an award to the manager of 1926 restaurant in Naxos, Mr Evangelos Venieris, who thanked the organizers for this great honor and indicated that the restaurant is an initiative of the Union of Agricultural Cooperatives of Naxos and that the dishes are made exclusively from local products of the island.
Tinos island was represented by the co-owner of the Etan Ena Mikro Karabi restaurant, Ms Stamatoula Psalti, who after receiving her award from Ms Gerekou stated that she was pleased their efforts in supporting Greek products is catching on.
Finally, the Chef's Club Honorary President, Mr Tolis Tassos presented Mr Giannis Liokas, chef of the Aristi Mountain Resort restaurant, with the final award of the event. Mr Liokas said: "It is a great pleasure to see our efforts to promote the Epirot gastronomy being recognized."