With the aim of highlighting the Greek Tourism product and developing the Hospitality industry in Greece, the HORECA exhibition has managed to become the main exhibition event in Greece and its reputation has surpassed the boundaries of our country.
Always breaking its previous records, HORECA confirms the fact that it is not merely the largest trade show in Greece for the catering and equipment of Hotels and accommodation units, but that, according to its many Greek and international visitors, its reputation has surpassed the standards of many rival international exhibitions! The participation of the largest and most important enterprises in the supply market, the high-quality organizational structures, the innovative products and new trends that are presented, the support of all industry institutions, the rich and always up-to-date special events reaffirm that it is the undisputed exhibition institution of the Tourism industry in Greece. Of course, the tens of thousands of professional visitors from hotels, tourist accommodation, restaurants, cafés and related Hotel and Foodservice facilities from every corner of Greece, flood the corridors of the trade show, looking for all the new and innovative supply market solutions in order to modernize, equip or renovate their business, also contribute to the overall status of the exhibition, which goes beyond the borders of Greece.
The HORECA exhibition embraces the Tourism Industry sector of our country and contributes to the promotion of the Greek Tourism product.
Elena Kountoura /
Minister of Tourism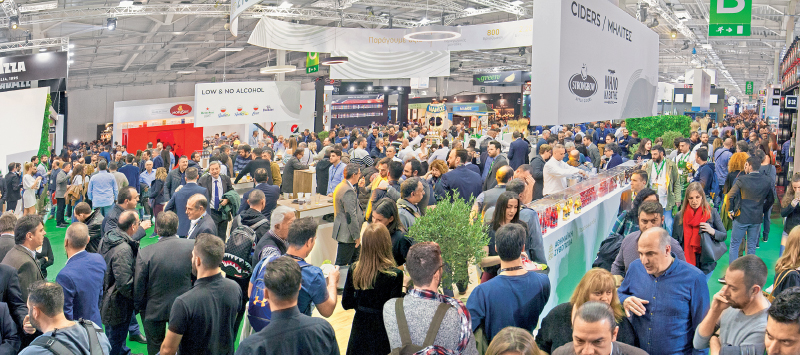 The 14th HORECA: more dynamic and larger than ever!
True to its principles and mission, the next 14th HORECA, with the participation of 550 exhibitors, 50,000 sq.m. of exhibition area, with updated special events and the support of all industry institutions, will once again be the most important commercial forum and center of investment choices for improving the infrastructure and services of the Greek Tourism products. For yet another year, with consistency and professionalism, the exhibition will welcome a large number of professionals working in the Hospitality industry, as well as important buyers from abroad, while also aiming to cover the exporting needs of Greek suppliers.
HORECA 2019 Forecast Key Figures

580

Exhibitors

125,000

Visitors

50,000

Exhibition Space (sq.m.)

500,000

Marketing Budget (€)

800

International Visitors

150

Hours

Special Events