For the 14th consecutive year, representatives from the entire entrepreneurial and political spectrum as well as members of the Tourism institutional bodies, were present in full force at the opening ceremony of the HORECA trade show.
Mr Alexandros Vassilikos, President of the Hellenic Chamber of Hotels, presided at the HORECA 2019 ribbon-cutting ceremony and made praiseworthy comments on the trade show, stressing that it is fostering development and leadership in Greece. Comments that reflect the vision of the president and CEO of the organizing company FORUM SA, Mr. Nikos Choudalakis.
More precisely, as Mr. Choudalakis stated: "HORECA, the strongest exhibition brand in Greece, is considered the 'leading trade show among trade shows'". Indeed, HORECA is the major exhibition event in Greece and the fair that familiarized Greeks with the necessity of trade shows. For 14 years now, HORECA, breaking its own, previous, records, has identified its course with the modernization and development of Greek Tourism. The 14th HORECA 2019, hosting 550 exhibitors in 50,000 m2 of exhibition surface and upholding high organization standards, aims to become a magnet for tens of thousands of trade visitors from the Hospitality and Foodservice sector, proving that well-organized and targeted exhibitions act as a driver for development, not only for the industry, but also for the entire Greek economy!
Mr Alexandros Vassilikos, President of the Hellenic Chamber of Hotels, inter alia spoke about the tremendous importance of the trade show on the upgrading of hotels and the development of Greek Tourism, in general. "Tourim is a matter for us all and we all benefit from it. The Greek hotel creates a wide range of possibilities and opportunities for synergies with a number of related market sectors. This great truth is also highlighted by the HORECA trade show, which, thanks to its size and scope, reflects precisely the positive contribution of tourism to the economic recovery of the country".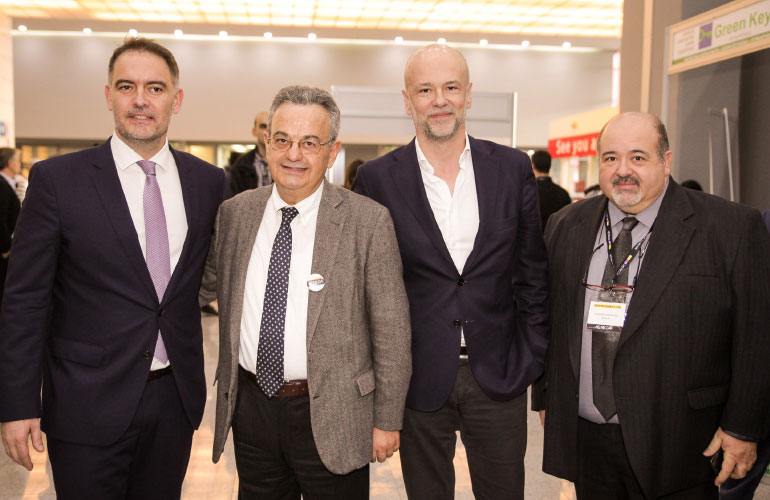 From left to right: Alexandros Vasilikos- President of HCH, Nickos Choudalakis- President of FORUM SA, organizing company of HORECA, Giannis Retsos- President of SETE, Thanasis Gialouris -Vicepresident of of FORUM SA, organizing company of HORECA
Giannis Retsos, President of the Greek Tourism Confederation, Gregory Tassios, President of the Ηellenic Hoteliers Federation, Mr. Panos Moraitis, President of the Panhellenic Foodservice Equipment Suppliers Association, Mr. Constantinos Michalos, President of the Athens Chamber of Commerce and Industry, were also present at the ribbon-cutting ceremony of the exhibition.
After the end of the opening ceremony, all officials went straight to the C1 hall of the exhibition center, where the 8th Annual General Assembly of the Hellenic Chamber of Hotels, the most important institutional meeting for Greek hoteliers, took place.