The 8th General Assembly of the Hellenic Chamber of Hotels met at HORECA 2019!
The annual meeting of Greek hoteliers was once again held for the seventh consecutive year at the HORECA trade show, consolidating its reputation as the leading Hospitality and Foodservice trade show in Greece.
The turnout at the annual General Assembly of the Hellenic Chamber of Hotels (HCH), hosted for the seventh consecutive year at HORECA 2019, was one of the highest ever recorded, with more than 1,000 hoteliers taking part in the proceedings. The general Assembly took place on Friday, February 8, right after the grand opening of the trade show with a welcome speech from the president of the HCH, Mr Alexandros Vassilikos. At his speech, Mr Vassilikos referred to the vision and strategy of the HCH, underlining that "upholding Greek Tourism high is the great challenge lying ahead of us."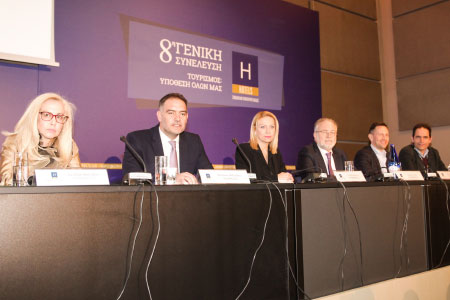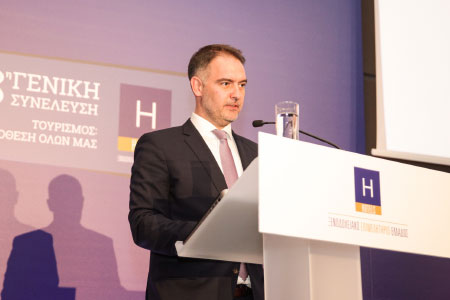 From left to right: The members of the board of HCH, Mr. Alexandros Vasilikos- President of HCH
Short-term leases, a major problem for the sector
During his speech, Mr Vassilikos talked about the unfair competition created by short-term leases and mentioned that recent studies highlight their negative consequences in society. He also announced the creation of the Travel Hospitality Accelerator program, which will, for the first time, bring closer all the new start ups dealing with Tourism with Greek hoteliers.
According to the president of the HCH, "2019 will be focused on the extroversion of the 'Greek Breakfast' program, through targeted actions as well as the new site of the HCH". At the same time, Mr Vasilikos announced the upgrading of the ITEP (Research Institute for Tourism), the scientific research branch of the University of Athens. In fact, the Institute's new scientific director, Mr. Petakos, presented the new goals of the ITEP for 2019.
Afterwards, Mr George Tzialas, Secretary General for Tourism Policy & Development, Ministry of Tourism, Mr Yiannis A. Retsos, President of the Greek Tourism Confederation (SETE) and Mr Grigoris Tassios, President of the Hellenic Federation of Hoteliers also gave addresses at the General Assembly. Both Mr Retsos and Mr Tassios highlighted the problem of over-taxation in Tourism, one of the major issues in the sector.