Star Chefs, Culinary Trends and Gastrotourism
Hundreds of foodservice entrepreneurs, as well as chefs attended the special events at the Gastronomy Forum, which this year, more than ever, had mostly training value.
The Forum started with a series of presentations and panel discussions revolving around the subject of Gastrotourism with representatives from the restaurant and Tourism scene of Santorini, Corfu, Lipsi and Kefalonia. Amongst them, Mr Giorgos Chatzigiannakis and Ms Georgia Tsara who spoke about the highly successful Selene restaurant in Santorini, as well as Ms Ageliki Karagouni from SETE that together with the World Food Travel Association Ambassadors, Ms Maria Athanassopoulou and Ms Chryssa Krassa, elaborated on the enormous potential of Gastrotourism in Greece. This kind of tourism, deeply connected with the culinary culture of Greece, was at the center of this year's Forum, presenting numerus case studies from every corner of the country, such as Naxos, Rhodes, Mykonos and Tinos, as Epirus, Skopelos, Peloponnese, Samos and Crete.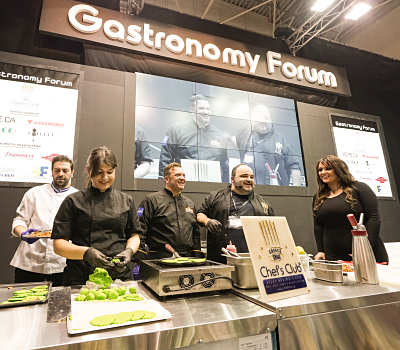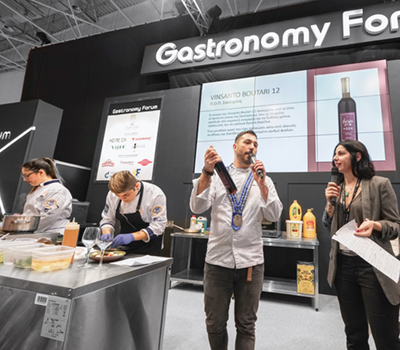 Left: Elias Skoulas presented street food with PDO products, Right: Kalliopi Piperi and Alexandra Kaskoutas from the Boutari Winery
Veganism, raw foodism (rawism) and other food trends
Continuing the exploration of the dominant trends in foodservice, the Gastronomy Forum focused on vegan dietary suggestions and rawism, which seems to be gaining more and more fans internationally. Tips and advice on these trends were provided by chefs Alkistis Alexandratos and Demy Georgiou from Lime Bistro. In addition, chef Ilias Skoulas, owner and chef of Food Mafia restaurants, demonstrated uses of PDO products in modern street food plates, while Kostas Kapetanakis, Maria Smyrli and Ianthi Michalakis of Estrella concept talked about the increased demand for Bruch. It is worth mentioning that the training value of this year's Gastronomy Forum was evident at the important master classes which were hosted on stage, such as the ones of chef Stavros Psomopoulos, with the topic "High End Gastronomy", and also that of the executive chefs, Tasos Zissopoulos and Tassos Tolis, about the modern bread pairing.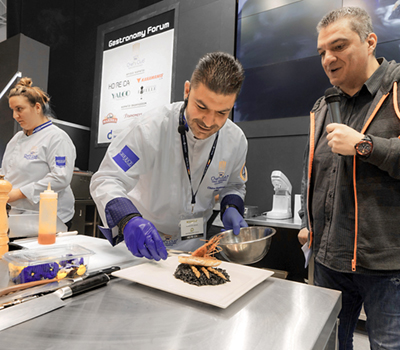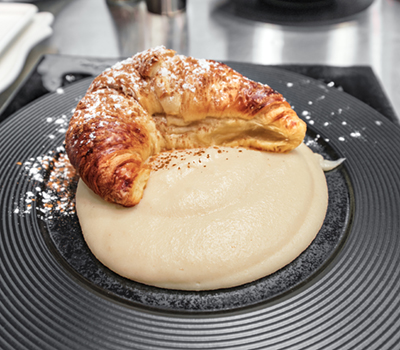 Left: Manolis Hiras from Manolis Tastes, Right: Estrella team created their famous "bougatsan"