The new special event that stole the show
Many professionals from the hotel, coffee and catering industry attended the Business Lab seminars that were successfully completed today on the last day of the trade show.

Contemporary Developments in Digital Marketing for Hotels was the presentation made by Tassos Veliadi, Chief Strategist at Socialab. During his speech he presented all the opportunities that the Internet today offers to promote the hotels in an operational level. Subsequently, Philip Iosifides, owner of Aristi Mountain Resort in Aristi Zagori, talked about Creating Thematic Experiences for the customers as well as ways to promote it as an additional key element to enrich the product offered by a hotel. L. Avgerakis, a member of SEEME, referred to his speech how the customer growth, reliability, efficiency and food safety, are linked to the equipment of the ho.re.ca industry that a hotel, coffee shop or restaurant uses.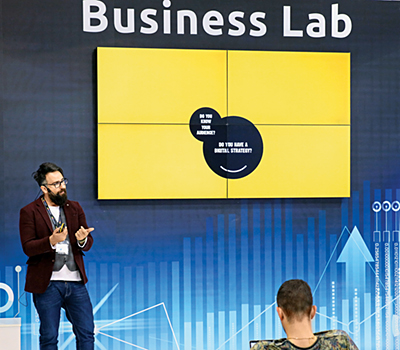 Tasos Veliadis from Socialab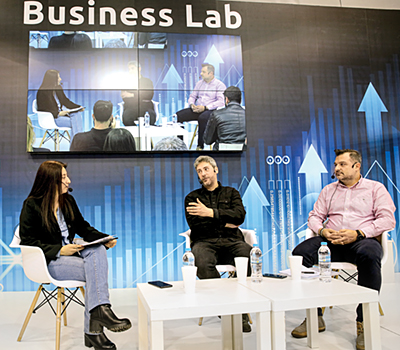 From left to right: Viky Tryfona / Hotel & Restaurant, Manolis Papoutsakis / Haroupi, Tasos Pediatidis / Tresor Hotels
During the panel discussion that was co-ordinated by Hotel & Restaurant journalist Vicky Tryfonas, and were participating Manolis Papoutsakis, chef patron at the award-winning Haroupi restaurant in Thessaloniki and Tasos Pediaditis, Tresor Hotels Director of Operations, they were discussed all the latest trends in Food & Beverage that are emerging as a result to the recent nutritional changes and modern consumer needs. Tasos Pediaditis then gave a speech on F&B Cost for restaurants, while Alexandros Gikopoulos, Bar Consultant and Brand Ambassador of Tsaknakis Bros., talked about creating a Bar Menu in restaurants. A. Daikidou, Marketing Manager of Catering Dinner Company, spoke about the Difficulties and Modern Requirements in Catering Services.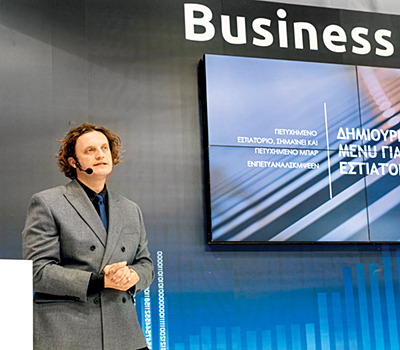 Alexandros Gkikopoulos from Tsaknakis Premiuim Brands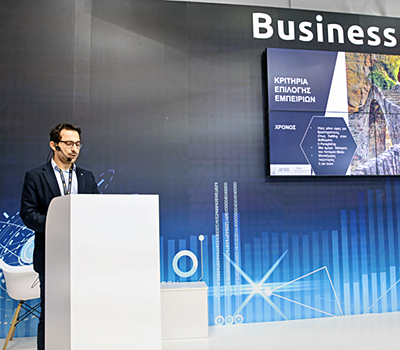 Filippos Iosifidis from Aristi Mountain Resort
The day continued with presentations devoted to the Café-Bar industry, with speakers Deni Kallivoka and Eleni Nikoloulia discussing the latest Marketing Trends for bars, emphasizing the importance of locality and local products in the bar. George Kanopoulos, co-owner of Warehouse, spoke about Food & Beverage Cost and at the end of the day Yiannis Samaras, owner of Mai Tai bar talked how to choose and create a bar with thematic concept.